Diatech was founded in 1994 by Jeremy Burgess, an entrepreneur and heating engineer. Before starting Diatech, Jeremy was joint managing director of City Tool Hire, now one of the largest independent tool hire businesses in London.
Almost three decades later, Diatech is now one of the UK's premium diamond blade and core drill suppliers to the construction industry. Together with his son, commercial director Alex Burgess, Jeremy leads a dedicated team of staff who work hard to make the lives of their customers safer and easier.
Diatech has ambitious plans for the future which include expanding its network and customer base in the UK and wider, with the goal of becoming the UK's number one premium diamond blade and core drill supplier in the industry.

ABOUT DIATECH
Diatech provides customers with a comprehensive range of specialist diamond blades, core drills and grinding cups.
We stock multi-use and specialist material blades, including concrete, asphalt and tar. Our blades feature a unique cut guide to help you select the right product to best match your needs.
Based in the UK, we provide next-day delivery across the UK. With nearly 30 years in business, you can be sure that Diatech's team of experts will help you find the right product for your job. Our products are recognised throughout the industry for their precision, performance and consistent quality.
We are a family owned business that believes in delivering real value, and we're passionate about delivering a high quality of service too. This is reflected in our ratings on Feefo, which score us 4.9/5 for both Products and Service respectively.
Our goal is to become the UK's number one premium diamond blade and core drill supplier.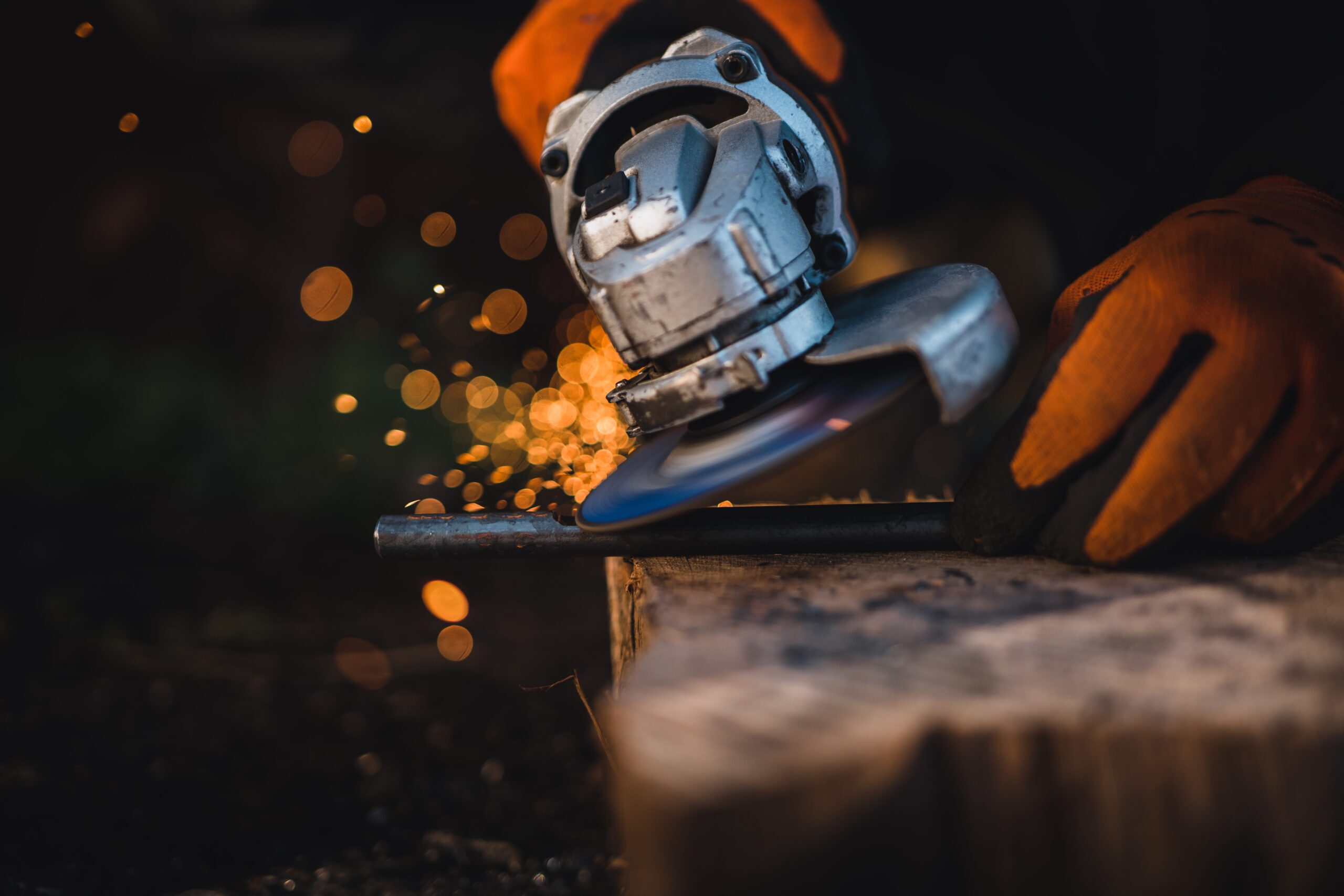 MISSION
Diatech will create sustainable value by sharing knowledge, by innovation, by investing in our people and by keeping it simple.
VISION
Diatech strives to be the supplier of choice in our field for all forward-thinking construction companies.
VALUES
Diatech will be professional in our business with our customers through sincerity and honesty. We strive to promote a happy, healthy, trusting work culture, to encourage positive attitudes and teamwork.
OUR MISSION, VISION
& VALUES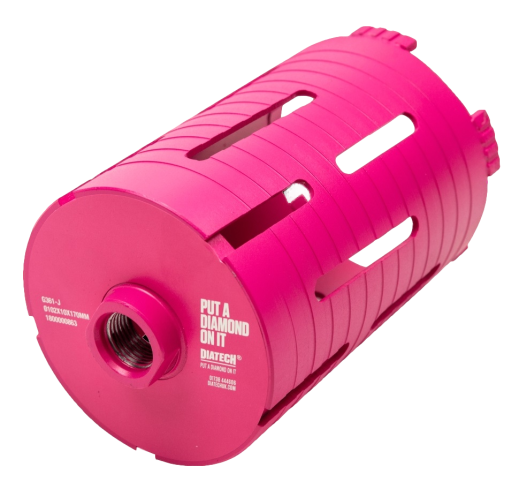 OUR PRODUCTS
Our cut, drill, grind products and related accessories have been developed with YOU, the customer, in mind:
They're consistent in quality. If you buy a diamond product today and the same diamond product a month later, it will perform the same – guaranteed.
They outperform our competitors' offerings both in durability and longevity.
They're part of a vast range which has been designed to meet every application and budget.
EXPLORE ALL PRODUCTS
THE DIAMOND THEORY
Advancement in diamond blade manufacturing technology over the last decade has contributed to more efficient cutting of all construction products.
Operator and site safety has been of the greatest significance in developing new segment technology with the focus on welding methodology.
Quality Diamond Blades and Diamond Core Drills are manufactured to meet European standards and regulations and backed by the Diatech ISO9001 Quality Management Procedures.
We are proud to be the suppliers of our exclusive Diatech range to professional end users across the UK.
All Diatech diamond blades consist of a high alloy tensioned steel core centre plate with diamond segments attached by laser weld, forge technology or sintering. Segments comprise of diamond grit held by a metal alloy known as the bond. The size and quality of the diamond grit varies, as does the composition of the bond in each type of blade.
Diamond blades grind through material and according to the hardness of the bond, release and break down the diamond grit to give the disc its cutting edge.
A hard bonded blade is used for abrasive and softer material, whilst a softer bonded blade is required for harder materials such as reinforced concrete and hard stone.
Most laser welded, forge and sintered diamond blades function well cutting dry, whilst those with brazed segments require water for cooling
Regulatory requirement is for improved dust suppression and this is enabled by applying water to the blade, which in turn often improves blade life.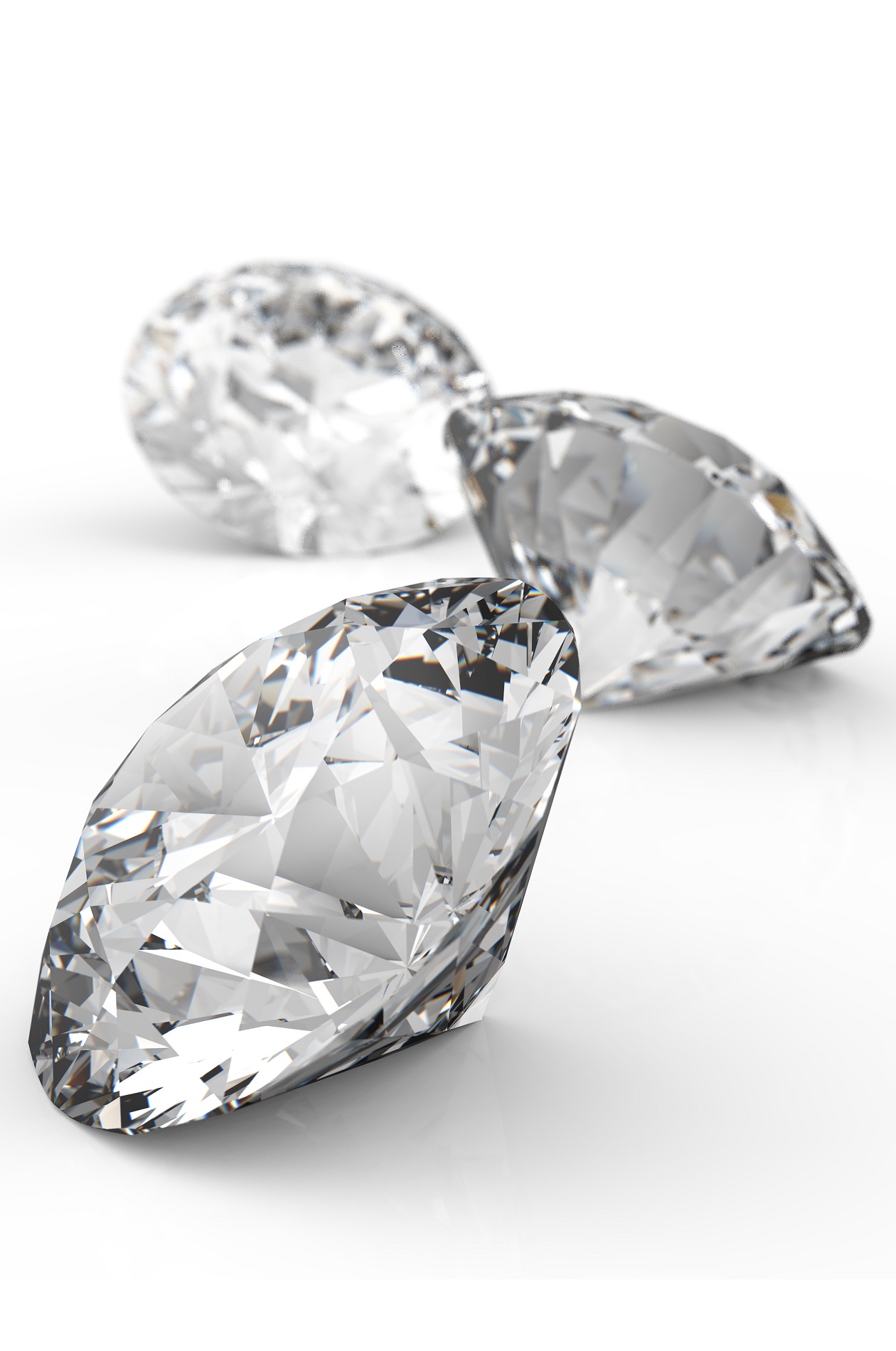 WHY PINK?
We want to be different, to stand out and be recognisable in this somewhat undefined market.
Our Diatech Pink enhances and makes our products easily identifiable. Our blades include clear markings on the front which indicate which material they cut and the number of cuts they will make in their lifetimes.
The flawless clarity of the blade markings will guide you to the right product for your cutting application, and the number of cuts will denote the expected life of the blade.
All Diatech blades retain their identity for their full life, due to painted markings on the front, and the laser etch on the reverse.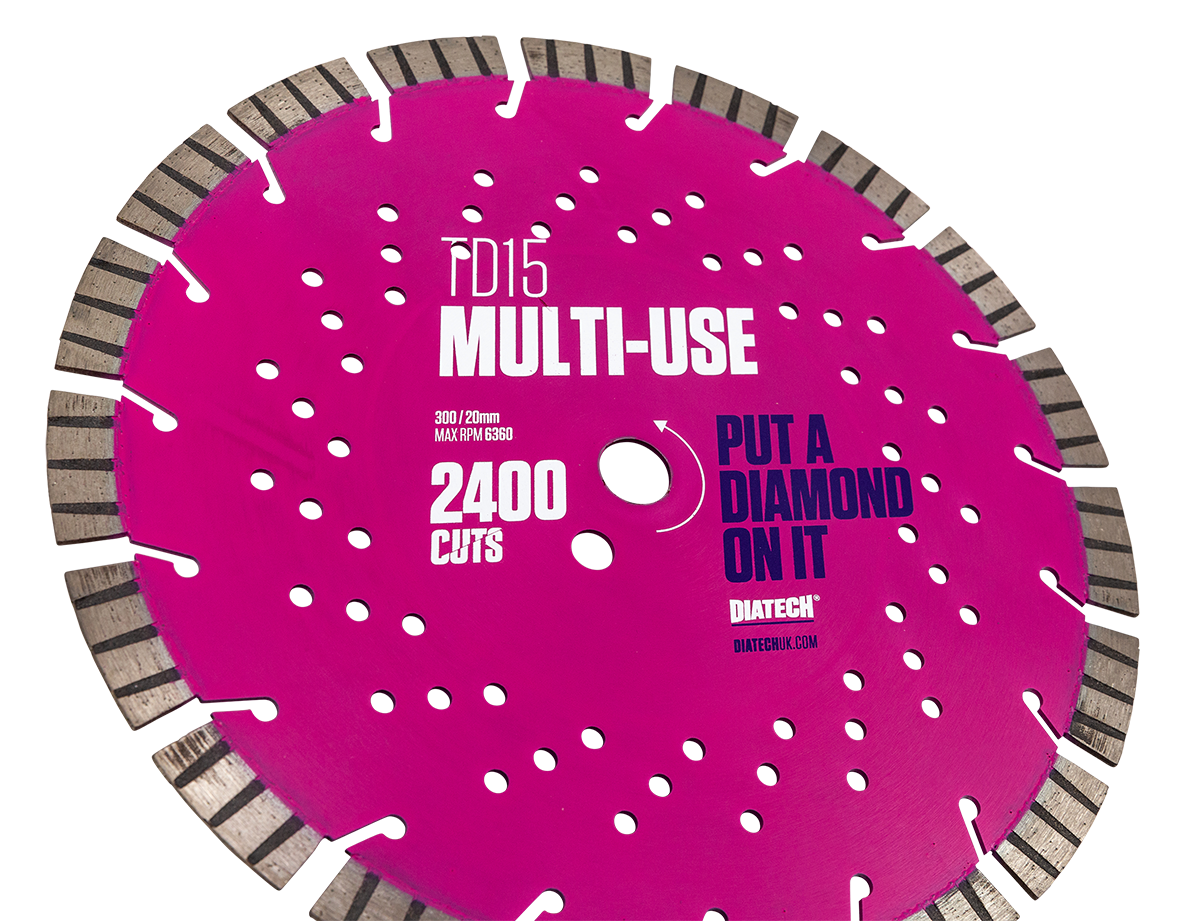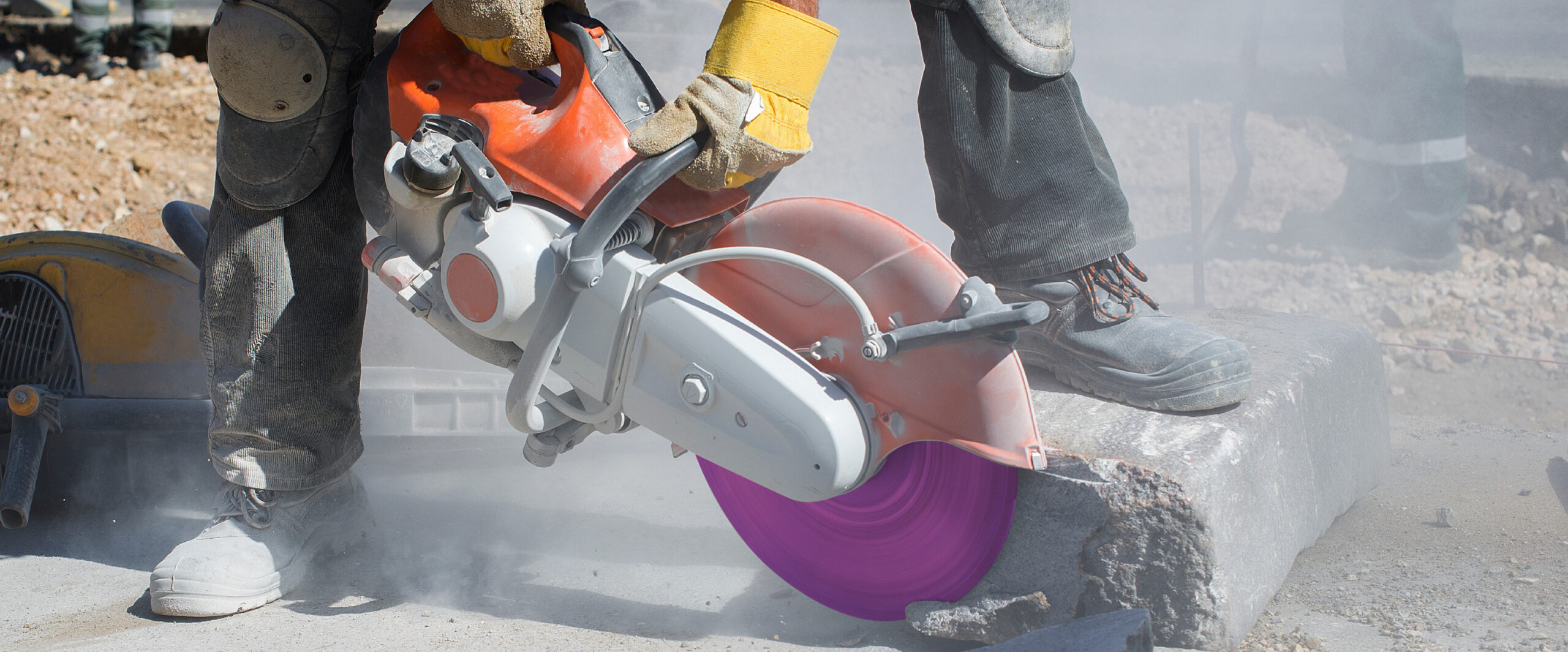 SPARKLING SERVICE
Among our team, we have a wealth of experience and expertise. We have all undergone thorough product analysis and training in our in-house academy, enabling us to give you the expert help you require.
Our blades and core drills have been developed with you, the customer, in mind. We're here to make your job easy.  What could be more reassuring than to arrive on site with a blade that you know performs with durability and speed?
We'll provide:
A sparkling service – second to none!
On-tap technical advice – when you need it.
The best value for money.
A no-quibble guarantee.
A secure and easy transaction.
Above all, and most importantly, we'll listen to you.

VALUED SUPPLIERS
Diatech's success has enabled us to become the trusted supplier of choice across the UK.
The demands and legislation surrounding the construction industry today are different to those that we knew in the 1990s when we first started, but by meeting those needs and partnering with our customers we have had continuous growth.
This is why we are proud of the level of excellence that we can offer our customers.